Doctor Appreciation Day!
May 2, 2019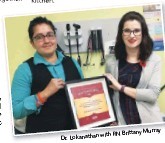 ---
Dr. Vanita Lokanathan
Family Practioner
The Peterborough Examiner
1 May 2019
From coast to coast, Dr. Vanita Lokanathan has had the opportunity and privilege to care for many people across the country. Since 2008, Peterborough has had the privilege to have Dr. Lokanathan practicing medicine within the Family Health Team model of care.
"There are many reasons I decided to study medicine and become a family doctor," says Dr. Lokanathan. "I enjoy the science and problem-solving aspect, however, being able to work with people, hear their stories, be independent, travel the country, and potentially go over borders and travel the world are the main reasons I chose this profession."
"After graduation, I completed my residency in Newfoundland and Labrador. This is where I fell in love with rural living. I fully intended to become a full-time rural doctor and spent 15 years in rural British Columbia as an "old country" GP. As fulfilling as it was, there are many challenges that came along with this role, and with having a young family, I knew it was not something I could sustain at that point in my life."
In rural areas, family doctors are always working to full scope with patients. These patients are all unique, across the age spectrum, with individual health concerns. From womb to tomb, rural family doctors provide a variety of care such as emergency medicine, prenatal care, hospital care, palliative care, and much more. In addition to this, these doctors help to coordinate the patients' care journey, which includes navigating them to the limited services available within the community.
Throughout her years practicing, Dr. Lokanathan began to see opportunities for positive changes in the health care system that would benefit patient care.
"When I was living and practicing in British Columbia, I saw a shift in the approach of the health care system, in breaking down barriers and utilizing a range of professionals working to their full scope, working together. This meant they were able to provide the full range of care they were trained to do, instead of only providing limited services. Much of this work was around chronic disease management. I joined a working group comprised of interdisciplinary providers, to adapt this model to pioneer group clinics for prenatal patients. At these clinics, the soon-to-be parents received peer and professional education and medical support; by doing this, we were setting them and their child up for a healthy pregnancy and increased confidence going into parenthood."
"I saw this type of collaborative work transition into embracing nurses providing full scope care within the traditional family practice. When these nurses in British Columbia began working to their full scope, the overall effect it had on the health care system was immense. Patients received enhanced care and the health system was able to save money and redirect those funds into additional services for patients. When the system and front-line providers work together as a team, everyone will benefit."
Dr. Lokanathan continues to advocate for health care providers working to full scope and demonstrates this in her practice at Peterborough's City Centre clinic. She and her partner, Sheena Howard who is a registered nurse, and nurse colleagues Lindsay Chmarney, Brittany Murray and Kelly Pensom, have presented the benefits of full scope nursing to many audiences with hopes to translate this knowledge to other practices, and have nurses fully utilize their skills. They have been recognized for their work through awards of distinction from Health Quality Ontario and The Association of Family Health Teams of Ontario.
In addition to advocating for nurses, Dr. Lokanathan is a strong voice for a diverse and underserved demographic: transgender people. Like every other person, these patients deserve the best quality of care, yet they have continually fallen through the gaps in our health care system. As a physician who understands that the care they require is not a specialty, she along with her wife Sheena worked closely with Peterborough Family Health Team during the initial planning stages of the Trans Care Clinic to successfully expand care to trans patients over the past few years.
When she is not busy being a doctor to her patients, Dr. Lokanathan cherishes the time she spends with her wife and their two sons, Ashwyn and Balan, and her extended and chosen family, in the tranquility of their garden and the delicious chaos of their kitchen.